Archive for the ' Client Testimony ' Category
Apr 3, 2011 Client Testimony
I purchased a Trekker Trailer in Moscow Mills, MO on June 5th, 2007 on my way to Nashville TN. It was a GREAT trip and I absolutely love that trailer. It is AWESOME.
I pulled it with a 2007 Harley Davidson Dyna Low Rider I purchased on May 12, 2007.
Jackie Miller
Apr 3, 2011 Client Testimony
I'm writing to tell you how much we are enjoying our Trekker Trailer.
As an owner of a GL1800 Honda GoldWing and a member of the Gold Wing Road Rider Association I have had the opportunity to compare your trailer to the various well known trailers that the members of our local chapter have purchased and had no problem making the Trekker our first choice.
We use the Trekker every weekend and have found that the Trekker delivers exceptional value, style, ease of use and flexibility that most of your competitors simply can't deliver at that price point.
The first thing that I noticed is the advantage of having the front and rear opening lid. This is the best feature of your unit, affording unparalelled flexibility like no other trailer does. This trailer swallows all of our clothing, our purchases and all the extras needed to do extended touring.
To me the greatest feature is the ride… The styling is aerodynamic and stays remarkable clean even in a rainstorm on the highway.
Even when loaded to it's capacity the Trekker is perfectly stable. Further, when crusing at highly illegal speeds (I wasn't going that fast officer!) the Trekker tracks perfectly true and the rubber bushing suspension soaks up the enough of the bumps that all of our cargo arrives safe, sound and still in place, even when towed on the roughest roads. I have to keep looking in my mirrors to make sure it is still there!
The design of the trailer is always the topic of conversation by everyone. Not just other bikers are commenting on it.. I have even had automobile owners come up to me and ask me about the trailer and my thoughts on purchasing one to be pulled behind their car They like the fit and finish and the many advanced design features.
In summary this is a great trailer that not only is the best looking, best pulling but offers substantially higher value for my investment.
I love it!
Dan Stalport
Apr 3, 2011 Client Testimony
for the after-sale service.
Keep on doing what you do guys, we are very satisfied!
We are 4 good friends and so far we have 3 Trekkers.
Stability, large capacity, design and killer looks made us decide on buying the Trekker. "
Thank you,
Ronald Crevier
Mirabel, Quebec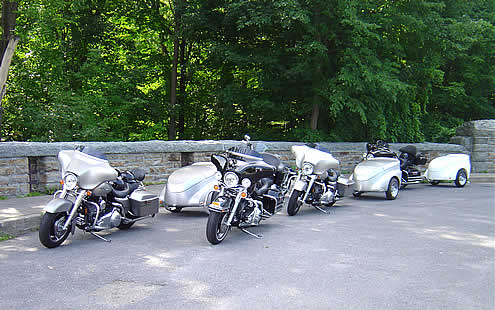 Apr 3, 2011 Client Testimony
This morning, the Trekker arrived at the store, just in the time you promised. I worried about what condition it would arrive in. But had I known what great care your crew took in crating it, I shouldn't have worried at all. The trailer was uncrated and found to be in absolutely perfect condition! Please thank those who did the fine crating job.
Now….. Joan and I are totally blown away at the quality of your product!! We simply cannot believe how well it is made, and how nice it looks behind our Harley.
The colour match is *perfect*, and very nicely applied. Thanks to your painter!
The lines of the Trekker are so very beautiful and modern. Everything else out there just looks like a box with wheels. My co-workers were anxious to see it, and were astonished at how good it looks.
The dual hatch feature is fantastic, as is the special locking system. You are a very good designer to have come up with such a unique set of features.
The fiberglass work is very impressive. I'm amazed at how nicely the hatch covers fit and close. Absolutely top quality!!!
(By the way….you *must* get the Trekker design patented as soon as possible. Of all the trailers I considered, I saw nothing like your product.)
You also did a good job of finishing the interior. The weather seals look expertly applied, and I doubt we will have any leaks.
The LED lights look great! I still have a bit of wiring to do on the bike, but will have them lit up very soon.
I could go on and on about how much we like the Trekker, but I will tell you more later.
This weekend, we are going to take a short trip just to see how "she" handles. I'll report back soon. Also, I'm going to take lots of high-quality images of the trailer on our upcoming vacation. I will put them on a CD-ROM for you to use in your advertising, if you wish.
Once again, thank you for the Trekker. The quality and value for the money is simply remarkable.
What's more, you have been a "straight-up" guy to deal with, and kept all your promises. We expect to sell a few trailers for you in return. Best wishes for now……
Doug & Joan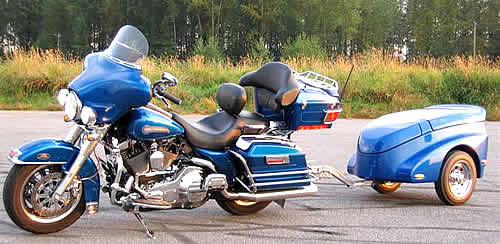 Mar 22, 2011 Client Testimony
I like to thanks everyone for the extra time and effort to get our trailer delivered on time. We received the trailer late Friday afternoon on the 18 of august and had it ready to roll by about seven o'clock that night.
We started our trip to San Francisco on Saturday morning in the bright sunshine.
In fourteen days we logged 6800 KM,S down the west coast then came back and nothing but blue sky's all the way. The trailer was fully loaded with camping gear and clothes for the trip, most of the time I didn't even know the trailer was attached to the bike except that I kept forgetting that I had to back it out every time I drove into a parking stall.
Again many thanks"
"Tony and Katherine"