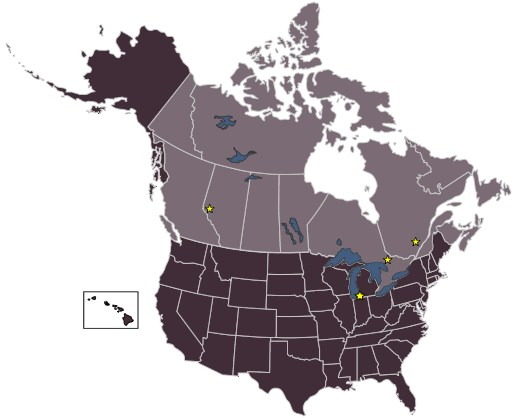 Stojan's Power Sports & Marine Ltd
9415 163 Ave, Grande Prairie, Alberta, Canada, T8X 0B6
Phone: (780) 538-2934
Fax: (780) 538-3324
Alberta Motorsports Sales & Salvage Ltd
58103 Hwy 757
Sangudo, Alberta
T0E 2A0
780-785-2041
Find a motorcycle trailer dealer in North America
Motorcycle dealer opportunity!!!
The TREKKER trailer is the ultimate in motorcycle trailer. If you own a motorcycle dealership, the TREKKER line of trailer is a good addition to your existing product line. Motorcycle dealer REV-UP your dealership revenues and profits. The new TREKKER luggage trailer is now offering this amazing business opportunity to all dealership.
We are offering good mark-up, the addition of your dealership on our web site, protected territory, good dealership support, and much much more.
Hurry up, contact JoŽl Parent at our toll free number for more details.
Phone: (450) 755-4316 Toll free: 1 866 781-7616
United States

Alabama
Alaska
Arizona
Arkansas
California
North Carolina
South Carolina
Colorado
Connecticut
North Dakota
South Dakota
Delaware
District of Columbia


Florida
Georgia
Hawaii
Idaho
Illinois
Indiana
Iowa
Kansas
Kentucky
Louisiana
Maine
Maryland
Massachusetts

Michigan
Minnesota
Mississippi
Missouri
Montana
Nebraska
Nevada
New Hampshire
New Jersey
New York
New Mexico
Ohio
Oklahoma


Oregon
Pennsylvania
Rhode Island
Tennessee
Texas
Utah
Vermont
Virginia
Washington
West Virginia
Wisconsin
Wyoming
Canada

Alberta
British Columbia
Prince Edward Island
Manitoba


New-Brunswick
Nova Scotia
Nunavut

Ontario
Quebec
Saskatchewan

Newfoundland
North-West Territories
Yukon