With its two lids, this user friendly trailer provides excellent cargo access. The chrome spare wheel is located inside the trailer, straitgh up, and always clean. The locking mechanism combine with the two push buttons that activates each lids has been designed to be easy to use, and to maximize the fluidity of the lines. Only the lock is visible.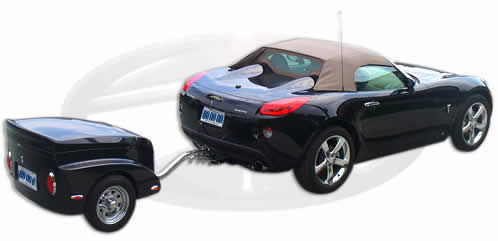 The Trekker standard features are as follow: Chrome pole and coupler, chrome 12 inch wheels and spare wheel, interior mat (floor and walls) LED lighs (side, tail, license plate. Uses 7.5 watts with brake lights activated.) Chrome trim around tail and parking lights, single locking mechanism, (one lock controls both lids). Complete frame, newly patented torsion progressive suspension with rubber inserts that has no pre-load, rubber inserts are replaceable, 2 gas shocks for the rear lid, one in the front, each lids has 2 latches, one on each side to prevent vibration and torsion of the lids, and much, much more... Base finish is either black or white gel-coat.
Optionnal equipements are: Color match paint, chrome add-ons, cooler or fridge. With this stylish sport car trailer no more luggage problem and you preserve the unique look of your car!!!
If you are looking for a distinctive, attractive motorcycle cargo trailer, do not hesitate to contact us at (450) 755-4316 or at our toll free number 1 866 781-7616.